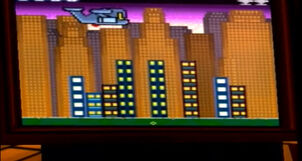 Bomber Bear is a minigame that can be played in The Rumpus Room or after saving Mai. To start the actual game, go to Chang's house and talk to the firefox cub, or glide over to the large arcade machine in The Rumpus Room.
In The Rumpus Room
Edit
You will take control of the game if you step on the start button. The button beside it is the fire button. Step on it to release the rockets. Your goal is to destroy all the buildings. The power of your rocket is color coded - green ones destroy one level, blue ones destroy two levels, and red ones destroy three levels. It only changes if you hit a building, meaning if you try to swap color rockets by hitting the ground, it will not unless you hit a building. Do not let the plane crash into a building or you lose a life. Each level of a building you destroy gives 100 points. In Viggo's Revenge, the cheat Tiny Characters can be unlocked by beating the first level.
In Chang's house
Edit
Chang's version of this game is considerably harder because the plane moves faster. But instead of timing your jump on a button, you actually tap your own button on the controller to release the rockets. If you beat the current high score of 50,000 points, you can earn the Big Head Mode cheat or the Ammo cheat (PS2).
Ad blocker interference detected!
Wikia is a free-to-use site that makes money from advertising. We have a modified experience for viewers using ad blockers

Wikia is not accessible if you've made further modifications. Remove the custom ad blocker rule(s) and the page will load as expected.