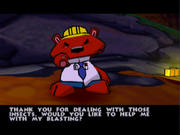 Boss Beavers
are a type of
beaver
located throughout
Beaver Power
. They are the leaders of the area, often seen with
Worker Beavers
. They wear a white coat with a blue shirt and a
Builder's Hat
. Some pencils stick out of a pocket, along with a name tag on the other side.
In Compound Factions, a Boss is looking for his stolen Set Square. In return, he'll hand over a Safety Certificate.
In Furry Forest, a Boss will request the Fur Fighter's assistance in distracting several Dragonflies. When done so, he will allow you to help him with his blasting by passing you a Detonator Handle.
In God Machine Valley, a Boss will want Bungalow to challenge one of his workers to an Arm Wrestle. If he wins, he'll hand over the Union Pass.
In Beaver Dam, a Boss and his two Workers will be grateful should the Fur Fighters help clear out the bears in the room so they can continue their jobs.
In Fluffraiser, a Boss Beaver can be seen in the small area outside, fretting over something. This is the only time the Boss Beaver uses this animation.
The Boss Beaver in Fluffraiser is the only NPC that can be found in any Fluffmatch.
Ad blocker interference detected!
Wikia is a free-to-use site that makes money from advertising. We have a modified experience for viewers using ad blockers

Wikia is not accessible if you've made further modifications. Remove the custom ad blocker rule(s) and the page will load as expected.