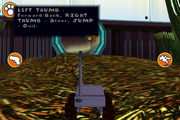 Buggy Decontamination
is a mini game located in the
VAB Building
. The object of the game is to clean the buggy, but the decontamination system is out of order so you'll have to go farther.
Start off by knocking down the barrier and entering the vent. Follow the path ahead and traverse the swamp until you eventually enter another building and find the shower. Push the Soap into the water and push the buggy in there too. The buggy will became sparkling clean. Exit, and go back the way you came (but be careful not to fall into the water, else you will immediately become dirty again and need to re-enter the shower area again). When you arrive back in the room, remember to collect the 3 Gold Tokens and move up the ramp. The Duck will comment on what a nice clean buggy it is, and you will have succeeded.
When you enter the vent, turn left. When you see the pipe going up, try to move around it to go up. You will receive the cheat Midas.
If you forget the 3 Tokens, you will never be able to complete the game 100%. This has been fixed in Viggo's Revenge, as the tokens are nearby on top of a computer outside the mini game instead.
The original graphics make the buggy appear much less clean as opposed to the remake where it just appears as a green colored buggy.
Ad blocker interference detected!
Wikia is a free-to-use site that makes money from advertising. We have a modified experience for viewers using ad blockers

Wikia is not accessible if you've made further modifications. Remove the custom ad blocker rule(s) and the page will load as expected.