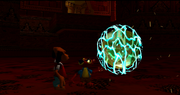 Cutscenes
are videos that are played during certain intervals to show players a scene relevant to where they are in the game. During this time, the player cannot interact with the characters. They can, however, be skipped.
There are 14 Cutscenes in all, though two of them can only be found in Fur Fighters: Viggo's Revenge.
List of Cutscene Galleries
Edit
Although the cutscene for Cape Canardo and Viggo A Gogo are absent from all but Viggo's Revenge, there is a text file for both of them in the original. The text for Viggo A Gogo is fairly different from the final. [1]
Ad blocker interference detected!
Wikia is a free-to-use site that makes money from advertising. We have a modified experience for viewers using ad blockers

Wikia is not accessible if you've made further modifications. Remove the custom ad blocker rule(s) and the page will load as expected.