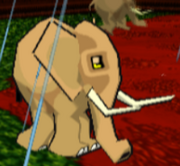 Elephants
are a fluffable critter found in
Anatat Tatanatat
. They roam around aimlessly, and are destroyed in one hit.
In Jungle of Despair, they are particularly noted for having their own Elephant Graveyard, which can be accessed by entering whilst inside the Wooden Elephant. Needless to say, these Elephants aren't actually frolicking around inside.
One Elephant can also be shot to move the wooden elevator in the tree village.
Ad blocker interference detected!
Wikia is a free-to-use site that makes money from advertising. We have a modified experience for viewers using ad blockers

Wikia is not accessible if you've made further modifications. Remove the custom ad blocker rule(s) and the page will load as expected.