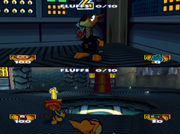 First Person
mode is an option that you can have in
Fluffmatches
in
Fur Fighters: Viggo's Revenge
.
As the name suggests, it changes the camera in the Fur Fighter's eyesight, allowing the player to attack their enemies using the popular First Person mode.
At one stage, it was going to be possible to use First Person in single player using a cheat. Whilst the cheat exists in the game's coding, selecting it will not activate anything.
Ad blocker interference detected!
Wikia is a free-to-use site that makes money from advertising. We have a modified experience for viewers using ad blockers

Wikia is not accessible if you've made further modifications. Remove the custom ad blocker rule(s) and the page will load as expected.