This article refers to the NPC critter. For the enemy, please see Fish.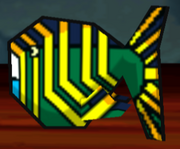 Fish are a critter that appear in various points during the game.
Like most critters, they are harmless and serve only to add more detail to the environment. One of these fish can actually hurt you in groups, but only in certain levels. The Fish will scatter when a Fur Fighter approaches them.
Ad blocker interference detected!
Wikia is a free-to-use site that makes money from advertising. We have a modified experience for viewers using ad blockers

Wikia is not accessible if you've made further modifications. Remove the custom ad blocker rule(s) and the page will load as expected.