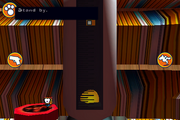 Fuel Pump
is a Mini Game located in
VLF Facility
. It is very similar to
Arm Wrestle
, except considerably harder.
In order to play, simply tap the same button as instructed over and over again to push the ball to the top.
If you win, you can rescue Xian, though interestingly enough it's possible to have Chang skip this mini game by jumping on the red guard railing above, and then leaping onto the faucet in which Xian resides.
In Viggo's Revenge, sometimes when you fail the minigame, it will trigger the usual line of dialog from the duck, but as soon as it triggers, you will return to the normal Fur Fighter controls and be able to move around. If you start the minigame again while the duck is talking, it will cancel the duck's dialog and replace it with his instructions dialog, allowing you to replay the minigame, but this time in the normal Fur Fighter view mode.
Ad blocker interference detected!
Wikia is a free-to-use site that makes money from advertising. We have a modified experience for viewers using ad blockers

Wikia is not accessible if you've made further modifications. Remove the custom ad blocker rule(s) and the page will load as expected.