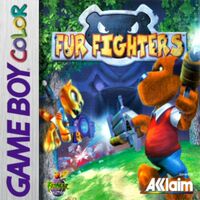 Fur Fighters Gameboy Color
is an unreleased game for Nintendo's handheld. 
Back in May 2000, IGN posted that Bizarre Creations had confirmed a portable version of Fur Fighters for Nintendo's popular handheld console, Gameboy Color.[1]
Unfortunately, this never came to be. When asked about the status of the game on the original Bizarre Creations forum, a developer hinted at the possibility that it would be released on the Gameboy Advance instead, since the Gameboy Color was slowly starting to fade out at that time.
Like Fur Fighters II, this too never came to be, and no concept art ever surfaced, despite some mockup art being created for the initial Gameboy Color proposal.
References
Edit