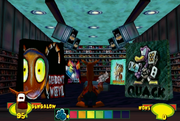 GameQuack
is the name of a store in
World Quack Centre
. Two
Bears
are inside, and they will break the glass when someone approaches them. At the very back there are two small cans of
Pet Yums
. The television screens display the
Fur Fighters
logo at all times.
Although you can't purchase anything, it does have some clever references from other videogames. 
Game References
Edit
The Store contains many references form other video games such as....
Quack: A reference to the 1996 first-person shooter Quake by Id software.
Resident Weevil: A reference to the game series called Resident Evil by Capcom.
Shemoo: A reference to the 1999 adventure game called Shenmue made by Sega AM2.
Metropolis Sheep Racer: Reference to the 2000 Racing game Metropolis Street Racer made by the same people that brought you Fur Fighters.
Ad blocker interference detected!
Wikia is a free-to-use site that makes money from advertising. We have a modified experience for viewers using ad blockers

Wikia is not accessible if you've made further modifications. Remove the custom ad blocker rule(s) and the page will load as expected.