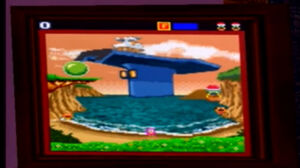 Lander
is a minigame that can be played after
saving Claude
. To start the game, talk to the
kitten
in
Juliette's
house.
How to play
Edit
Move the balloon around and use fuel by tapping up. Do not overdo it, as you do have a limit to how much fuel you can use. Your goal is to transport three babies to the house/telepoint without crashing into any walls or the sides of the screen. When every baby is rescued, you will get a score bonus depending on how much fuel was used. Beating the high score will give you the Honey I Shrunk the Fur Fighters cheat.
All of the dragon babies are colored red like Tweek. This is likely a mistake.
Every 20,000 points will give you an extra life.
Ad blocker interference detected!
Wikia is a free-to-use site that makes money from advertising. We have a modified experience for viewers using ad blockers

Wikia is not accessible if you've made further modifications. Remove the custom ad blocker rule(s) and the page will load as expected.