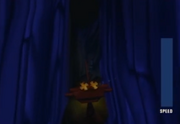 Sonar Steering 
is a minigame you can play in
The V-100
. Your goal is to steer away from the exploding barrels to avoid getting
fluffed
.
This minigame is only activated when you get out of the torpedo area and pass by the sonar steering room. When heading through the next hall, an alarm will sound, and you must turn around and go back to the sonar steering room to activate the minigame before getting fluffed. You have the option to accelerate and decelerate in this minigame.
The alarm will still trigger if you came into the room from the other direction and try to go back.
Completing the mini game on Viggo on Glass earns you an achievement, Engage the Silent Drive.
You do not have to clear this minigame in order to beat the level. However, it is mandatory in Viggo's Revenge in order to obtain the First Mate's Key.
Ad blocker interference detected!
Wikia is a free-to-use site that makes money from advertising. We have a modified experience for viewers using ad blockers

Wikia is not accessible if you've made further modifications. Remove the custom ad blocker rule(s) and the page will load as expected.