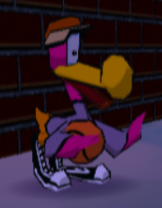 "Hey man. Wanna shoot some hoops?"
―Street Punk
Street Punk is a bird found in Lower East Quack of New Quack City. He is standing near a basketball hoop in a corner. If spoken to, he will start a mini game. If the player completes the game successfully, he will award the player with a Dime, which is necessary to cross the bridge.
Ad blocker interference detected!
Wikia is a free-to-use site that makes money from advertising. We have a modified experience for viewers using ad blockers

Wikia is not accessible if you've made further modifications. Remove the custom ad blocker rule(s) and the page will load as expected.